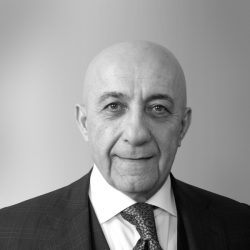 Anwar Rabah
President & CEO
Mr. Rabah entered the financial services industry in 1983. He held executive management positions in major Canadian companies such as New York Life, Atlantic Region and National Life of Canada prior to the inception of Magnum Wealth Partners in 2004.
His superior client service skills have earned him numerous awards in sales, marketing and management within the financial services sector.
Mr. Rabah is a firm believer in giving back to the community. He donates his time and resources to assist various Ontario business, cultural and humanitarian organizations with their important work.
Our clients say it best
It has now been more than a decade that we have been using the services of Magnum Wealth Partners and I can honestly say that we are very pleased with our business relationship as well as the personal relationship we have formed with the principals of the organization. We have used Magnum Wealth Partners in the areas of personal, key-man and business succession planning and the life insurance portfolio management necessary to ensure an easy transition to future generations of our business. We also capitalized on their advice to ensure a proper diversification of our investment portfolio and happily participated in their alternative investment offerings. They are available on a moments notice to help out. They have a clear and concise understanding of our business, our industry and our thinking and they react to changes in market conditions quickly and effectively. Quite simply, they are a great team to work with! If you or any of your associates are looking for these types of services, I would be very quick to recommend Magnum Wealth Partners to you. You (like we are) will not be disappointed.

Retailer Principal, The Quinn Automotive Group BMW Toronto, Parkview BMW, BMW Grand River, MINI Downtown, MINI Grand River

I have been working with Magnum Wealth Partners for many years now and have entrusted Anwar with a significant portion of both my RSP and regular investment account portfolios. In addition, I chose to go with a retirement planning insurance product that he recommended for my family. I feel very comfortable with the products that I have invested in and the recommendations made by Anwar and his team. Any questions that I have are answered in a straightforward manner and with integrity. Looking to the future, I plan to continue to invest with Anwar on a regular basis

President & CEO Natural Energy Systems Inc.

I am writing to thank you and your team for the advice and the service you have given me. Your knowledge and expertise did truly change my life positively. I would not hesitate for a moment to recommend you and your team to my family and friends. I look forward for future reviews and encounters.

Mortgage Planner & Debt Elimination Advisor

I have been working with Anwar and his team for over five years now. His expertise and insight have caused me to re-think my approach to personal financial planning. Always ready to answer the many questions I have, one of the things I appreciate the most about Anwar is the thoughtful manner in which he explains the reasoning behind why he is presenting a particular investment opportunity. I have come to trust his guidance and counsel and consider him a good friend. I would not hesitate to endorse him to anyone looking for assistance in the area of wealth management

Chief Operating Officer, Entertainment One

"Michel's Bespoke have been working with Magnum Wealth Partners for over 10 years. We are extremely pleased with the quality of service and quality of advice provided by the Magnum team. Their professionalism, knowledge and expertise helped us understand the value of financial planning and its importance on both personal and corporate levels. All our life insurance, disability and critical illness plans are managed by Magnum Wealth Partners and we strongly recommend them to all our family, friends and business associates."

President & CEO Michel's Bespoke

I was introduced to Anwar and his team through a trusted mutual acquaintance. Being in my early 30s with a decent revenue stream from my business, I wanted to both diversify my investments and prepare for the future. I had some limited experience with insurance policies but understood the merits of a properly crafted disability and whole life insurance policies. With a patient and personal touch at all times, the Magnum team took an exceptional amount of time to work with me and explained the fundamentals and values of various insurance vehicles, selecting only ones that made sense for my situation. I truly feel the team has had my best interests at heart, and have gone the extra mile (or 10) to secure the right policy at the right status.

CEO & Consulting Architect, Ferroque Systems Inc.
Get your financial calculations
for Savings, Loans, Investments, etc!
Please click on the button below to get your calculations.
Corporate "Buy /Sell" agreements
Whenever a corporation has more than one shareholder, it is commonly recommended that the shareholders enter into a buy-sell agreement to operate
Corporate "Buy /Sell" agreements
in the event of a shareholder's death, disability, retirement, or conflict with other shareholders or a number of other specific circumstances.
Corporate "Key Person" Insurance
The "Key Person" insurance is a business continuation strategy using Life and/or Critical Illness insurance policies to help protect
Corporate "Key Person" Insurance
the business from the cost that result from the death or critical illness of a key person.
Here is how it works:
Group Benefits & Retirement Plans
A comprehensive benefits and retirement program is a major component of any organization's compensation package.
Group Benefits & Retirement Plans
It provides protection for an employer's most important assets, its employees, and helps to attract top candidates in today's competitive employment marketplace.
Estate Transfer strategies
Life insurance has many uses for both individuals and business owners.
In the earlier stages of life,
Estate Transfer strategies
the principle purpose of insurance is protection against untimely loss of income of the family provider.
Corporate and personal living benefit coverage
Living benefit plans are insurance policies that provide financial benefits to survivors who face issues due to aging, illness, accidents and dependency.
Corporate and personal living benefit coverage
There are 3 common types of living benefit insurance policies:
Corporate and personal life insurance coverage
We all know that life insurance can be used by individuals to cover debts, funeral expenses and provide financial cushion to family after death.
Corporate and personal life insurance coverage
But did you know that life insurance can also be purchased and used by a corporation for a variety of issues that may arise upon your death?
Wealth Management
Plan for tomorrow starting today
Segragated funds
RRSPs
RESPs
RRIF and annuities
For more information contact your advisor
Please contact us through email or phone number as listed below, Or fill up the contact form and we will respond within 24 hours.
Just call us. We can answer all your questions.

T. +1 905 819 9963     F. +1 905 285 0033

5096 Durie Rd, Mississauga,Ontario, Canada, L5M 2C7

info@magnumwealthpartners.ca
Working Hours: Monday – Friday: 9:00 am to 5:00 pm EST.